Our Firm
Juridica Especialista de Occidente is a law firm engaged in providing the most specialized consulting and litigation professional services in the field of Agrarian Law and its related branches from a comprehensive perspective due to its relation with the related and complementary legal aspects, which encompasses the basic community, Ejido (communally held lands of Mexico) regime and the small property regime; its relation with the agricultural exploitation, including the field of forests and silviculture, such as the processes of transformation, which result in the urbanization of rural property for the industry, tourism development; as well as mining, hydraulic resources and the scope of the Energy Reform regarding hydrocarbons and electricity..
Our Professional Philosophy.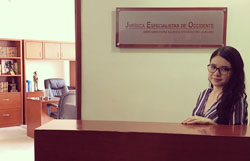 Aware of the complexity of the field, we abide to the commitment of laying out the path that better suits the client's interests, with the intention of achieving awareness of the truth and its satisfaction. Providing conditions for confidence is the way for consolidating professional certainty; precision and clarity in the case analysis and defining the most suitable strategies is always our goal.
Our Vision and Objectives.

For us as members of the firm, and who contribute with professional, academic and teaching experience; it's of uttermost importance to uphold principles of truth and ethics, always giving priority to the client's interests, with personalized services and under a clear, simplified and precise analysis of each case, while inquiring in depth therein; such type of analysis enable us to find alternatives to service the case or solutions, together with strategies that enable us to do so.